Oxford Country Cottages COVID-19 UPDATE
Bookings in July & August are subject to a minimum charge of the weekly rate

New bookings made from 18th April 2020 with arrival dates from 1st June 2020 will benefit from a complimentary no quibble cancellation policy with Master Cancel where full refunds are given for any reason. This was initiated late last year and has only just been finalised, unfortunately it cannot be applied to bookings made prior to 17th April 2020.
Oxford Country Cottages has remained open for key workers and those who are able to travel here.
In the meantime, if you are unable to travel to us for whatever reason it means that if you have travel insurance, as strongly recommended in our T's & C's at the point of booking, you are now able to claim. If you need copies of bookings/payments to provide to insurers, please let us know.
Automated online bookings remain open.
Oxford Country Cottages offer self-isolating accommodation meaning that you can stay here and maintain your social distancing far more effectively than most locations in the UK, being on a remote farm with a 1000-acre nature reserve as our neighbour (Oxford is only 5 miles away). Our set up is polar opposite from hotels and B&B's in terms of the ability to maintain social distancing.
As per our terms & conditions for bookings prior to 18th April 2020 we are unable to offer refunds for those who are unable to travel here for whatever reason.
Please do bear in mind that we are not an insurance company or a charity, it is insurers who should be your first port of call when claiming for a cancellation. 
Book Direct Oxford Country Cottages – Booking direct online with us will ensure the best rates #bookdirect
For detailed information on LIVE availability, pricing for your tailored length of stay and/or to book online please enter your preferred dates below:
If you would prefer to ask in person please call Felicity on +44 (0)7703 319102 or email felicity@oxfordcountrycottages.co.uk
Your widget will appear here.
Our Rates
Please do enter your preferred accommodation dates above to access our live booking system where you will find rates tailored to your length of stay, alternatively please Contact Us if you have any problems.
Oxford Country Cottages rates are all inclusive and based on standard occupancy (2 per bedroom excluding infants). This includes free Gigabit Internet throughout, 5* linen & towels on very comfy beds, and a starter pack with the basics (tea, coffee, sugar, olive oil, salt & pepper, fairy liquid, soap, shampoo, some loo roll), free range eggs from our hens, home-made bread, brownies and other treats! We have a small Farm Shop here with most essentials, locally sourced organic meat and some luxuries too!
2020 Weekly Pricing (VAT inclusive) from
Blenheim Cottage | 3 bedrooms | from £997.50 per week minimum (standard occupancy up to six people)
Waterperry Cottage | 2 bedrooms | from £787.50 per week minimum (standard occupancy up to four people)
Magdalen Cottage | 1 bedroom | from £577.50 per week minimum (standard occupancy up to two people, optional up to four people)
Trinity Cottage | 1 bedroom | from £577.50 per week minimum (standard occupancy up to two people, optional up to three people)
Teal Cottage | 2 bedrooms | 2 bathrooms | from £1350 per week minimum (standard occupancy four people, optional up to six people)
Beryl the Bus | 3 bedrooms | from £892.50 per week minimum (standard occupancy up to six people)
Security deposit – payment for your booking is taken via our secure online booking system using SagePay. A security deposit will be held against your card (no money is taken) at the time the balance is paid and will be released within a week of your departure. The amount varies slightly depending on the cottage and is made clear on the booking screen.
Please note guests typically stay for a week or two, however if you wish to stay for a longer period of time, please click on the blue 'Book Online' button and input your requested dates to view prices specific to your length of stay.
Bookings in July & August are subject to a minimum charge of the weekly rate. For example, you could stay for 3 nights but we must charge the weekly rate for all bookings for these peak season months of the year.
The Change-Over day for all Cottages in July and August only is Saturday. Change-over days for the rest of the year are flexible.
Long Stays – discounted weekly rates are available for bookings over four weeks.
Extras:-
Additional Beds £50 supplement, only available in Magdalen, Trinity and Teal.  (A Travel Cot and High Chair can be provided free of charge on request in all cottages.)
Pets are very welcome, subject to written confirmation. A £50 Supplement is required per pet or cottage. No more than two pets per cottage are permitted
Pamper Hampers – from £35.00
Oxford Country Cottages' 
Booking Terms & Conditions
Contract
Felicity & James Dolleymore of Lower Farm Ltd, trading as "Oxford Country Cottages" are the owners ("the Owner") of the holiday let accommodation ("the Property") and the Contract entered into which is the subject of these terms and conditions is made between the Owner and the hirer of the Property ("the Hirer").
Payment
Bookings will be confirmed on receipt of payment by Oxford Country Cottages.
If the reservation is being made within eight weeks (56 days) of the commencement of the stay then the total rental is payable when the reservation is made and accepted, together with the security deposit, if requested (see paragraph 4).
If the reservation is more than eight weeks (56 days) before the commencement of stay a deposit of 30% of the total rental is payable. The balance of the rental plus the security deposit (see paragraph 4) is payable to Oxford Country Cottages not less than eight weeks (56 days) prior to the date of commencement of the hiring.
If the balance of the total rental payable together with the security deposit is not paid prior to this date Oxford Country Cottages reserve the right to cancel the booking and forfeit the deposit paid.
Our preferred payment method is via our secure online booking system. Under certain circumstances our bank account details can be provided for payment by bank transfer. We also accept cheques. Cheques should be made out to "Lower Farm Ltd" and addressed to Lower Farm, Noke, Oxford OX3 9TX.
Cancellation Policy
3.1 Cancellation for bookings made prior to 18th April 2020

Any cancellation must be sent to Oxford Country Cottages in writing by the Hirer named on the booking form. The effective date of cancellation will be the date that the written instructions are received by Oxford Country Cottages.
| | |
| --- | --- |
| Cancellation date before the commencement of Let | Cancellation Charge |
| More than 56 days | Loss of 30% Deposit |
| Less than 56 days | Full cost of the let |
In the event that following cancellation Oxford Country Cottages are able to re-let the accommodation for the period booked (or part of it) 50% of the re-let income will be refunded to the Hirer.
In the unlikely event of cancellation of the reservation caused by Oxford Country Cottages due to unavailability of the accommodation sought, Oxford Country Cottages will endeavour to provide suitable alternative accommodation. In these circumstances, if the alternative accommodation offered is not acceptable to the Hirer, Oxford Country Cottages will provide a full refund of rental paid including any security deposit paid.
3.2 Cancellation for bookings made on or after 18th April 2020 with Master Cancel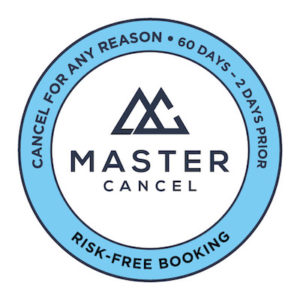 Advantages of our Master Cancel flexible cancellation terms & conditions to the Hirer:
Our Master Cancel program features flexible cancellation terms & conditions allowing our guests to book with confidence, knowing that if they cancel for unforeseen circumstances that arise, you the Hirer will be returned your valuable booking deposits.
​Delivers "peace of mind" by simplifying the guest cancellation process into terms that all parties can understand.
Guests can cancel up to and including 2 days prior to check-in and receive a refund.
Master Cancel Terms & Conditions are as follows:
Only lodging costs are refunded. Additional extras, including but not limited to cleaning fees, taxes and other ancillary charges, will not be refunded.
​Refund Payment for cancelled bookings will be released back to the cancelling guest on the scheduled date of check-out of the original booking.
​Cancellations made 1 day prior to or the day of check-in will not be eligible for refund. Example: For a check in on Saturday, Guests could cancel the prior Monday, Tuesday and Wednesday, and Thursday, but not Friday (1 day prior) or Saturday (day of check in).
​Guests may cancel their reservation by notifying Oxford Country Cottages in writing that they wish to cancel.
​Master Cancel applies to bookings where the maximum length of stay is 90 days
Security Deposit
Oxford Country Cottages reserve the right to hold a security deposit on the card used to complete the booking payment. This will be released within seven days following completion of the hiring, less any charges incurred as a result of the failure by the Hirer to meet his responsibilities as set out in paragraph 7 hereof.
Holiday Accommodation
All Oxford Country Cottages properties are let as furnished holiday lets and do not create a Landlord and Tenant relationship within the meaning of the Rent Acts.
VAT
Value Added Tax (VAT) is included in the rental charge; the current rate is 20%. A full VAT receipt is generated by the booking system and emailed with your booking confirmation.
Hirer Responsibilities
7.1 Having arrived at the Property The Hirer shall in all matters concerning the Property deal with the Owner.
7.2 The Hirer is responsible for the Property during the period of rental and is expected to take reasonable care of it. All equipment and utensils must be left clean and tidy at the end of the hire period. The Hirer is expected to leave the holiday accommodation in the same state of cleanliness, general repair and the order in which it was found. An additional charge may be made if extra cleaning is required.
7.3 The Owner will provide the Hirer with an inventory of the furniture and effects on the Property. On completion of the hiring the Hirer should return the inventory to the Owner having marked on it any damages and breakages. The Owner will check the condition and contents of the Property and will notify the Hirer within seven days of any additional cleaning costs or charges for damage and breakages for which the Hirer is liable. Payment shall be made by the Hirer immediately on receipt of the invoice in respect of the above charges. Where a security deposit has been taken, the charges will be deducted from the deposit and the balance refunded to the Hirer within seven days.
7.4 The Hirer will not use the premises' broadband Internet WiFi facilities for unlawful purposes.
Termination of Booking
The right is reserved to terminate the booking with immediate effect if the Hirer fails to observe the regulations imposed from time to time by the Owner and in the event of termination under the provisions of this clause the Hirer will not be entitled to any refund of the hiring fee paid. The Regulations are set out in the Schedule hereto and the Owner reserves the right to alter amend or add to the Regulations at any time. 
Complaints
All complaints must be referred to the Owner who will promptly and fully investigate the matter and ensure that corrective action is taken immediately if the complaint is found to be substantiated. The Owner will not entertain or consider any complaints or claims for compensation unless the complaint or problem has been raised by the Hirer in the course of the hiring or in circumstances in which it is possible for the Owner to investigate the complaint effectively and take the necessary corrective action.
Liability
The Owner will not accept any responsibility for the personal belongings of the Hirer or the Hirer's vehicle and it is the responsibility of the Hirer to arrange appropriate insurance cover in respect of these items.
Occupancy
The Hirer shall be entitled to occupy the Property from 3.00pm on the day of arrival and must vacate the Property before 10.00am on the day of departure unless there has been prior agreement to the contrary with the Owner. Any variation must be clearly stated in the booking confirmation. The number of occupants must not exceed the standard advertised number per cottage; a charge of £50 per person per night will apply for any additional occupants found staying without notice, alternatively they will be asked to vacate the property immediately should this contravene fire regulations.
11.1 Dogs
We are very happy for guests to bring their canine friends with them on their break, but ask that all guests please adhere to our 'house rules' for visiting dogs, at all times. There are 1000 acres of wetlands on our doorstep with two bridleways running across our property, an ideal location for dogs.
Family dogs at Oxford Country Cottages other than Assistance dogs are purely at our discretion on a case by case basis depending on age, type, time of year and present bookings.
We charge £50 per week for a dog to include a dog bed & feed bowls and to cover extra cleaning costs.
We have a dog of our own who is friendly and well socialised with other dogs so it is important that visiting dogs are sociable and not aggressive towards other dogs.
Dogs must be kept on a lead at all times whilst on the farm and in the grounds of the cottages, including the car park. We have cats, free range poultry and lambs in the surrounding fields, all of which present temptation to our canine friends!
Dogs must not be left alone in the property, however we are happy to arrange dog sitting should this be of interest – please feel free to enquire.
We respectfully remind you to adhere to the 'Countryside Code' at all times. A copy can be found in your cottage information folder or the Laundry Room.
Fouling – Your dog must be taken out of the courtyard garden, as we have to be mindful of other guests- particularly families with children. Please take your dog into the carpark to relieve itself, or use the French drains immediately outside each cottage. Any evidence of mess in the garden may result in the damage deposit being withheld.
Dog owners must take responsibility for the control and actions of their pet at all times.
Please clean your dog after a muddy walk before allowing them into the property. Do not use the cottage bathrooms or showers to clean your dogs. We do have an outside hose in the yard, which you are very welcome to use.
Cancellation Insurance
Cancellation insurance is not compulsory but Oxford Country Cottages does STRONGLY recommend such insurance cover to protect against the cancellation penalties. Holiday insurance should be available through your own insurance brokers. Oxford Country Cottages will not offer refunds in the event the Hirer is unable to fulfil their booking.
Right of Entry
The Owner shall be allowed the right of entry to the Property at all reasonable times for purposes of inspection or to carry out any necessary repairs or maintenance.
THE SCHEDULE
Regulations governing the occupancy of the Property
Smoking is not permitted in the Property
Pets are not allowed in the Property or in the grounds of the Property without prior written consent from the Owner, note 11.1 above for dogs.
The number of occupants of the Property should not exceed the maximum number stated in the booking confirmation
The Hirer shall take reasonable and proper care of the Property and its furniture pictures fittings and effects
The Hirer shall not carry out any activity on the Property which might cause a nuisance or annoyance to the Owner or the occupiers of any adjoining property and in particular (but without prejudice to the generality of the foregoing) no musical instrument, stereo or TV shall be operated on the Property between the hours of midnight and 8.00am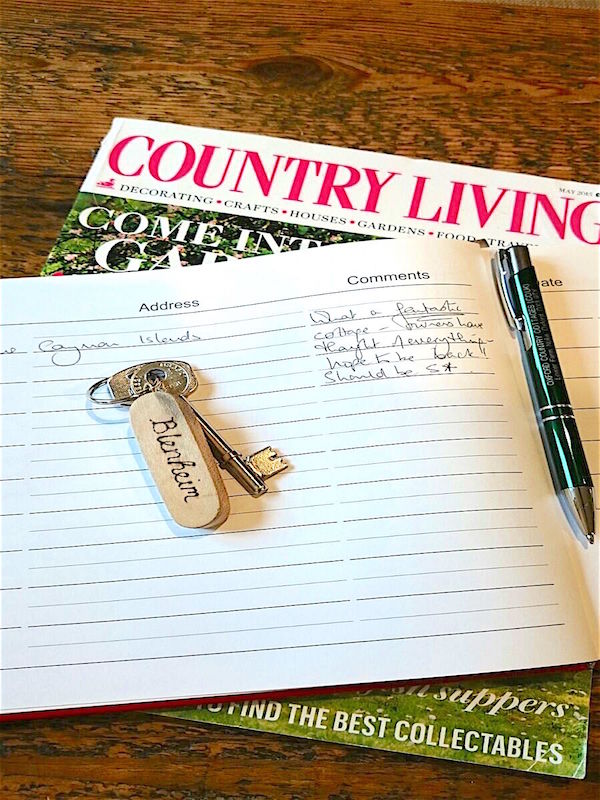 Blenheim Cottage
Visitor's Book
"What a fantastic cottage - you have thought of everything. Hope to be back. Should be 5*"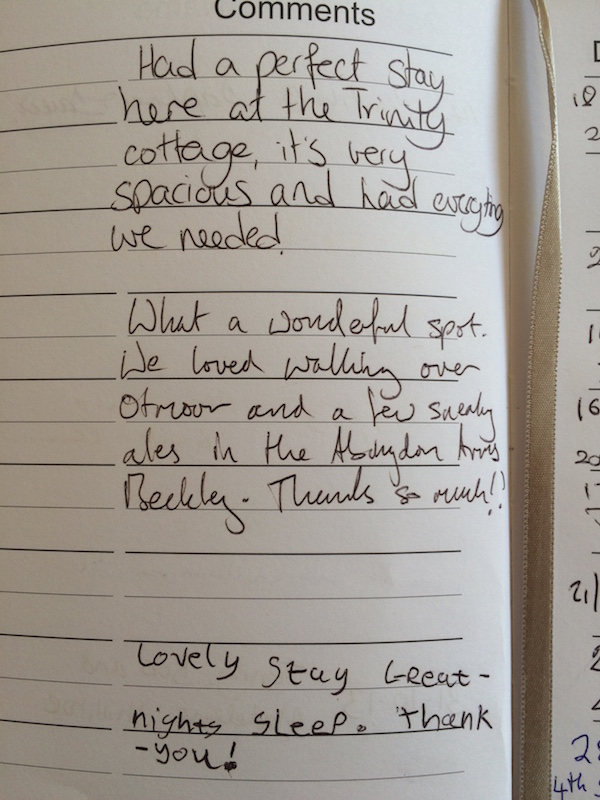 Magdalen Cottage
Oxford Country Cottages' Guest Book
"What a wonderful spot. We loved walking over Otmoor and a few sneaky ales in the Abingdon Arms Beckley. Thanks so much!"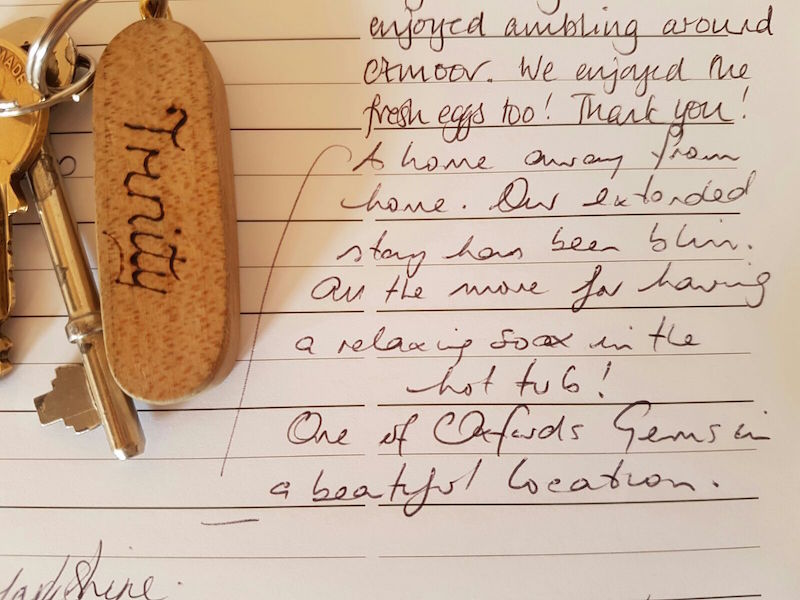 Trinity Cottage
Oxford Country Cottages' Guest Book
"A home away from home. Our extended stay has been bliss. All the more for having a relaxing soak in the hot tub! One of Oxford's Gems in a beautiful location!"
Ultrafast WiFi
Free & unlimited
Smart TVs with Netflix, Prime etc
1000Mbps / 1Gbps
Provided by Gigaclear
Pets are welcome
Beds & bowls are provided
Subject to written permission and a £50 fee. 
Family Friendly
Childrens' toys & books
Cots, highchairs & crockery
Secure walled garden 
Wendy House full of toys
Farm Shop in the courtyard
Fresh, frozen & shelf groceries
Plenty to rustle up a meal for late arrivals
2 Tesla chargers
1 Type-2 EV charger
Renewably powered during sunlight by our solar panels
Stunning walled courtyard garden
Jacuzzi hot tub (6 seater)
Table tennis 
BBQ area
Wendy house
Book Online & Availability
For detailed information on live availability, pricing and/or book online information please enter your preferred dates below:
Booking direct online with us will ensure the best rates
If you would prefer to ask in person please call Felicity on +44 (0)7703 319102 or email felicity@oxfordcountrycottages.co.uk
Your widget will appear here.